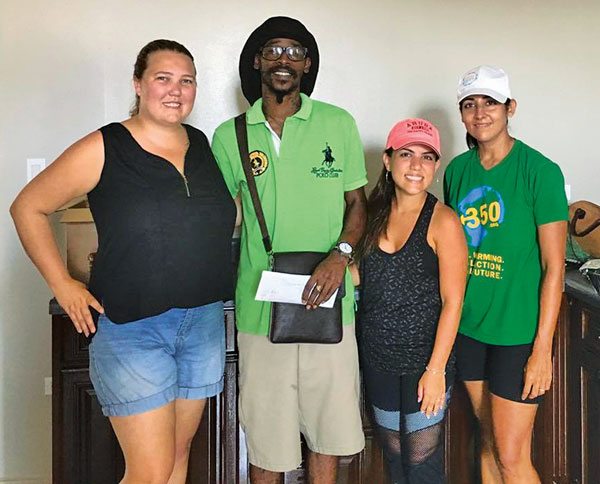 On Monday 6 Nov, 2017 Vegan to go SXM and The Chef's at St. Maarten Vegan's Community donated their weekly profits of their organized event ''Feel Good Lunches'' held at the Belair Community Center to Spaceless Gardens as a contribution toward the rebuilding of the St Peters Community Garden Research and Development Center. Spaceless Garden received $864 – Fls 35 & 5 Euro, which will be used to compensate volunteers for their time and effort along with any other materials that may be needed to ensure the farm may reach its redevelopment stage.
''We were very grateful to be nominated as one of the organizations to receive the donation from The Chef's at St. Maarten Vegan's Community and will make sure the funds go to the direct cause,'' Wyatte explained.
The St Peters Community garden was badly damaged by the passing of Hurricane Irma, Mr Wyatte along with volunteers from the surrounding communities who have reached out to give a helping hand on the clean up, replanting and redevelopment of the Community Garden have been working hard to get the garden back on its feet.
''Its not an easy task, sometime you feel like giving up because of all the fight you get for trying to do something good, you feel like there is no encouragement coming from the same people and country you do it for and just when you feel like going up, here come people like the St Maarten Vegan Community that you never really noticed your efforts have encourage greatly. Just the small things like this individual contribution brings back a direction of hope. I just want to say Thank you to the supportive organization and its members for believing in our efforts'' Wyatte expressed.
Mr Wyatte encourages as much people to go out this coming week to the Belair Community Center and support the 'Feel Good Lunches'' fundraiser as they continue to provide lunches for those in need while also supporting local community organizations that are doing their best to get back up and running so they may continue serve their community at their best ability once again. Your contributions will go along way.
The closing event will end on Nov 19, 2017 at the Belair community Center and will be an open event for the public with positive lectures on veganism and importance of being "environmentally friendly by the members and organizers of St Maarten Vegan Community and Feel Good Lunches accompanied by a lecture on the Importance of Agri-Culture by Mr Wyatte.
The event will begin at 12 pm noon on Sunday Nov 19, 2017 at the Belair Community Center with the introduction of lectures, followed by the statistics of the organizations past few weeks of the fundraiser and ending with delicious open vegan buffet.
The participating organizations encourage the general public to come out.