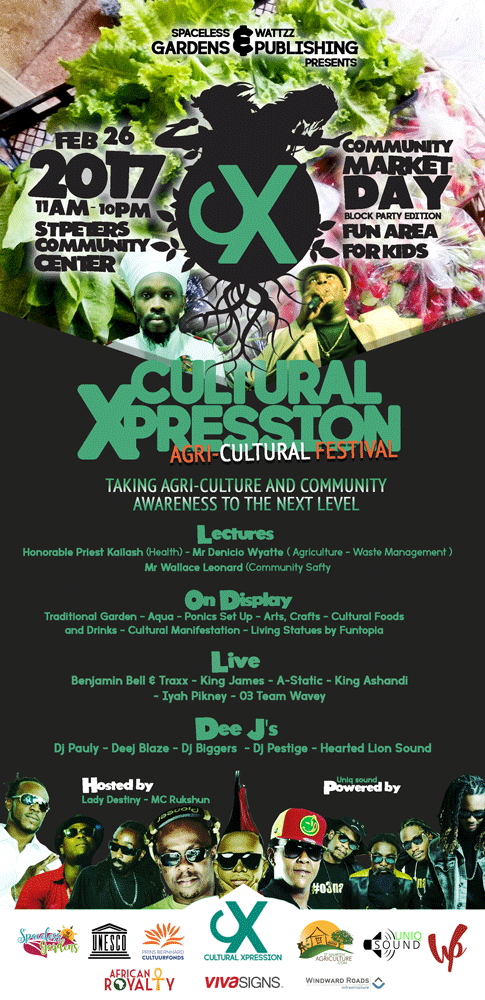 On February 26, 2017 Spaceless Gardens will introduce the general public to an extraordinary experience. ''Cultural Xpression'' Agricultural Community Market Day and Music Festival.
We are currently seeking cultural vendors to participate in this event.
The Agricultural Festival will consist of a number of great activities and entertainment for all ages. The day will embrace a number of community, health and agricultural awareness demonstrations and lectures.
The Streets of St Peters will be transformed into a market place environment, on display will be produced from the community garden along with other regional produce, Cultural Arts, Crafts and Food vendors. A display of an Aqua-Ponic system and a traditional back yard garden set up  will also be on exhibition to create a community market experience of a life time.
Lecturers during the day will be the The Honorable Preist Kailsh from St Lucia to give a lecture on herbal health awareness, Mr Denico Wyatt on Agricultural Awareness and Waste Management and Mr Walace Leonard Of the St Maarten Police Dept on community safety. Establishments present will be Mr Steven Suen Of Natural Health Center with a detoxing station.
Throughout the day a live performance by Mr Benjamin Bell and Cultural Manifestation will be performed as there will be plenty fun bouncing activities to keep the kids going while the adults get a chance to observe the positive information.
As the evening sets in the streets will become the dance floor as Dj Pauly, Deej Blaze, Dj Prestige, Dj Bigger and Hearted Lion Sound take the stage to keep the momentum of the day going. Live performances for the evening will be  King James, King Ashandi, Iyah Pikney, 03 and A Static. Mc's for the day will be Lady Destiny and Mc Rukshun.
So save the date and time and location, Sunday February 26, 2017, 11am to 10pm at the Rupert Maynad Community Center in St Peters where the island will come together as a community, to Learn, Laugh and Live as one. So Keep the violence at home.
Interested in becoming a vendor at Cultural Xpression's Community Market Day ?
Send your Name, What you would like to sell and if you are employed or unemployed to stmaartenagriculture@gmail.com or Call 586-1536 or 5536300, Registrations ends Feb 15, 2017.
We would like to thank all supporters such UNECO St Maarten, Prince Bernard Cultuur Funds, VSA, BAK, SZV, Uniq Sound, Windward Roads and Wattzz Publishing for their support towards Agriculture for St Maarten.
Stay posted Spaceless Gardens Face Book Page and stmaartenagriculture.com for more information about upcoming changes that will be added to the event.